Overview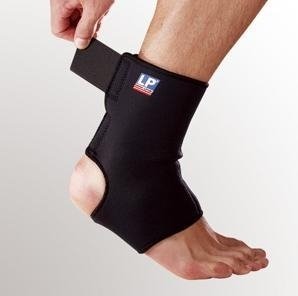 Achilles tendinitis is an inflammation of your Achilles tendon. It?s quite common in people who have psoriatic arthritis, reactive arthritis or ankylosing spondylitis. It can also occur as an over-use injury in people who take part in excessive exercise or exercise that they?re not used to.
Causes
There are several factors that can contribute to achilles tendonitis. First, you should know that the biggest contributor to chronic achilles tendonitis is ignoring pain in your achilles tendon and running through the pain of early achilles tendonitis. If your achilles tendon is getting sore it is time to pay attention to it, immediately. Sudden increases in training can contribute to achilles tendonitis. Excessive hill running or a sudden addition of hills and speed work can also contribute to this problem. Two sole construction flaws can also aggravate achilles tendonitis. The first is a sole that is too stiff, especially at the ball of the foot. (In case you are having difficulty locating the "ball" of your foot, I mean the part where the toes join the foot and at which the foot bends) If this area is stiff than the "lever arm" of the foot is longer and the achilles tendon will be under increased tension and the calf muscles must work harder to lift the heel off the ground. The second contributing shoe design factor which may lead to continuing achilles tendon problem is excessive heel cushioning. Air filled heels, while supposedly are now more resistant to deformation and leaks are not good for a sore achilles tendon. The reason for this is quite simple. If you are wearing a shoe that is designed to give great heel shock absorption what frequently happens is that after heel contact, the heel continues to sink lower while the shoe is absorbing the shock. This further stretches the achilles tendon, at a time when the leg and body are moving forward over the foot. Change your shoes to one without this "feature". Of course another major factor is excessive tightness of the posterior leg muscles, the calf muscles and the hamstrings may contribute to prolonged achilles tendonitis. Gentle calf stretching should be performed preventatively. During a bout of acute achilles tendonitis, however, overly exuberant stretching should not be performed.
Symptoms
People with Achilles tendinitis may experience pain during and after exercising. Running and jumping activities become painful and difficult. Symptoms include stiffness and pain in the back of the ankle when pushing off the ball of the foot. For patients with chronic tendinitis (longer than six weeks), x-rays may reveal calcification (hardening of the tissue) in the tendon. Chronic tendinitis can result in a breakdown of the tendon, or tendinosis, which weakens the tendon and may cause a rupture.
Diagnosis
Physicians usually pinch your Achilles tendon with their fingers to test for swelling and pain. If the tendon itself is inflamed, your physician may be able to feel warmth and swelling around the tissue, or, in chronic cases, lumps of scar tissue. You will probably be asked to walk around the exam room so your physician can examine your stride. To check for complete rupture of the tendon, your physician may perform the Thompson test. Your physician squeezes your calf; if your Achilles is not torn, the foot will point downward. If your Achilles is torn, the foot will remain in the same position. Should your physician require a closer look, these imaging tests may be performed. X-rays taken from different angles may be used to rule out other problems, such as ankle fractures. MRI (magnetic resonance imaging) uses magnetic waves to create pictures of your ankle that let physicians more clearly look at the tendons surrounding your ankle joint.
Nonsurgical Treatment
The aim, when treating Achilles tendinitis, is to relieve pain and reduce swelling. The kind of treatment used can vary, based on the severity of the condition and whether or not the patient is a professional athlete. After diagnosis, the doctor will decide which method of treatment is required for the patient to undergo, it is likely that they will suggest a combination. Stretching achilles tendon, a doctor might show the patient some stretching exercises that help the Achilles tendon heal, as well as preventing future injury. Methods used to treat Achilles tendinitis include, ice packs - applying these to the tendon, when in pain or after exercising, can alleviate the pain and inflammation. Resting, this gives the tissue time to heal. The type of rest needed depends on the severity of the symptoms. In mild cases of Achilles tendinitis, it may mean just reducing the intensity of a workout, in severe cases it might mean complete rest for days or weeks. Elevating the foot, swelling can be reduced if the foot is kept raised above the level of the heart. Exercise and stretching, a doctor might show the patient some stretching exercises that help the Achilles tendon heal, as well as preventing future injury. They may, instead, refer the patient to a physiotherapist or another specialist. The exercises learned will improve the flexibility of the area and likely increase calf strength. Pain relievers - non-steroidal anti-inflammatory drugs (NSAIDS), such as ibuprofen can reduce pain and swelling. If you suffer from asthma, kidney disease or liver disease do not take NSAIDs without first checking with your doctor. Steroid injections, these can reduce tendon swelling, but should be performed with caution, as this process has been associated with a greater risk of tendon rupture. A doctor would likely perform the injection while scanning the area with ultrasound to reduce this risk. Compression bandages and orthotic devices, such as ankle supports and shoe inserts can aid recovery as they take the stress off the Achilles tendon.
Surgical Treatment
Occasionally, conservative management of Achilles tendon conditions fails. This failure is more common in older male patients and those with longstanding symptoms, those who persist in full training despite symptoms or those who have uncorrected predisposing factors. In these cases, surgery may be indicated. It should be remembered, however, that the rehabilitation program, particularly for severe Achilles tendon injuries, is a slow, lengthy program. Surgery is only indicated when there is failure to progress in the rehabilitation program. Surgery should not be considered unless at least six months of appropriate conservative management has failed to lead to improvement.
Prevention
Maintaining strength and flexibility in the muscles of the calf will help reduce the risk of tendinitis. Overusing a weak or tight Achilles tendon makes you more likely to develop tendinitis.